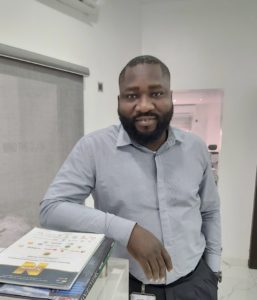 Meet our Technical Sales Manager, Orire Aderopo, He is a multi-skilled professional with over 12years experience and a superb track record of managing complex functional projects in the Oil & Gas Industry.  He can manage stakeholder expectations and take full responsibility for the delivering of project objectives and flexible & versatile enough to handle work descriptions outside the scope of his experience
He obtained his West African Examination Certificate from Ekiti State Government College, and his bachelor's degree in Engineering Physics from Obafemi Awolowo University (OAU) Ile-Ife and a Master of Science in Subsea Engineering, and a Certifications in Automation and Instrumentation from Endress & Hauser Training School Switzerland 
He is an Associate Member of the Institute of Marine Engineering, Science & Technology (IMAREST), also an Associate member: Royal Institution of Naval Architect (RINA) and a member of the Nigerian Institute of Safety Professional (NISP).
Currently, Mr. Orire Aderopo, is responsible for delivering projects against agreed scope, budget, schedule & customer expectations. Doing this whilst supervising, directing & motivating teams of multi-discipline contractors and monitoring project risks and scope to identify potential problems and proactively identify solutions to address them in advance and escalating promptly any issues that may impact operations/projects also producing stage plans, highlight reports, risk logs, technical requests etc. He drives sales at assigned customer senior management levels, to close orders and accelerate company growth with   business commitment through shared objectives and broad adoption of company products and services, he also seeks to equal customer specifications with mutually valuable, multi-year corporate agreements with plans to continuously analyse assigned accounts and develop penetrable strategy and tactics to increase productivity
He oversees:
client expectations by ensuring the delivery of the highest quality service while on client feedback and sales management to assure account coverage and assist sales resources to drive customer share. 

Update assigned accounts on new products and technology as related to customer needs and develop account relationships at a senior level, engaging company senior management. 

Customer problems with company solutions. Where possible extract and validate actual solution, value delivered, and pave the way for value propositions. 
Leverage and guide geographic resources to provide appropriate commercial and technical expertise to the customer and Coordinate channels on account strategy as necessary by providing technical or commercial support to the team.
Implement new product launches within accounts by analyses market trends and strategies of competitors and actively seek out and participate in both formal and informal training opportunities to continuously develop technical skills.